Aliquam vehicula nunc facilisis tincidunt feugiat. Pellentesque sed viverra nisi. Fusce et laoreet augue. Quisque pretium, felis at volutpat rhoncus, ligula lectus semper urna"
Jhon Smith, CEO @ Labib Digital Studio
Duis tristique pretium nunc, eget imperdiet tortor auctor et. Mauris porttitor mollis metus at sollicitudin. Etiam id bibendum ipsum. Proin molestie, velit eget euismod rhoncus.
Jhon Smith, CEO @ Labib Digital Studio
Fusce in sapien sit amet lectus iaculis porttitor ac at magna. Proin at lectus tincidunt ante dapibus rhoncus. Maecenas eget ornare ipsum. Sed quis consequat lorem.
Thomson Polan, CEO @ Caramal Digital Studio

SHARE a Story:
Sharing a Single Story or an entire Collection is fairly simple. For best results, be sure you are connected to the Internet via a Wi-Fi before uploading a Single Story or a Collection of stories.
Tap on a Collection from the home screen and either select share all to share the entire Collection or tap a single recorded story icon and select share from the pop-up menu.
If you're inside the Record Story UI, tap share.
A new screen appears with the following options:
YouTube:
Shares the video on your YouTube account.
The first time you use this feature, you will need to provide your YouTube username and password. Once you've logged in, check the "keep me logged in" box and your login credentials will be securely stored in your device's keychain.
Vimeo:
Shares the video to your Vimeo account.
It will be necessary to go through Vimeo's login/approve-app process the first time you share a video to Vimeo. Your login status is stored in your browser cookies, so you'll only need to login once, unless you physically log out.
DropBox:
Uploads the video to a designated folder generated by the app in your Dropbox share.
The first time you use this feature, you will need to provide your Dropbox username and password. Once you've logged in, check the keep me logged in box and your login credentials will be securely stored in your device's keychain.
Email:
Sends the video as an email attachment. Be mindful of file size and email account limits.
Camera Roll: 
This feature stores the video to the camera roll on your device. You may download the video to your Mac/PC when you sync your iPhone or iPad. You may also stream the video from your iPhone/iPad via Apple TV for all to enjoy. If the file is small enough, you can also send the movie as a text message.
Render:
When you select the Share option, the video will Render, which means the photos, captions, title card art, and video clips will be stitched together and a single video file will be created. Be patient — this might take some time, depending on how long your story is. Every video will be rendered at the devices highest quality setting, unless you choose otherwise. 
Wi-Fi Connection Hot Tip:
Whenever you share a full Collection or a Single Story, make sure you have an active Wi-Fi connection. Video files tend to be quite large. The amount of data transmitted during the upload might crush your data-plan, unless you have an unlimited data plan — then go for it! use that bandwidth! ?
More Screen Shots: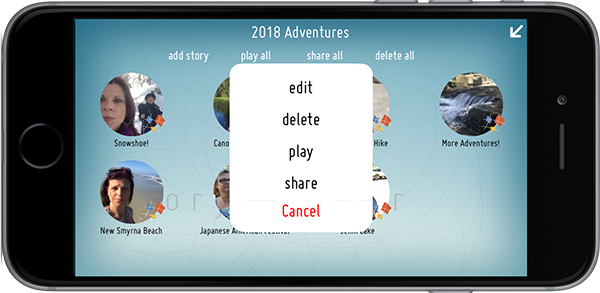 Record a Story:
Tap on New Story and you'll be taken to the main User Interface.
Tap Story Title and the keyboard will pop up so you can create a title for your story. Do the same for the Story Subtitle.  
As an option, you may record a quick introduction for your video or dive straight into the story. If you need help with a question to ask your storyteller (or yourself), tap on Interview Tips for themes and ideas of good questions to ask.
To record the main story, tap the record a story circle and select:
camera roll takes you to videos stored on your iOS device's camera roll. (Please be aware, StoryCatcher is designed to display the storyteller's video in a horizontal format. Vertical video is not recommended when using StoryCatcher, as standard viewing format for movies and videos is in a horizontal format. We want your stories to be truly archival! 
tap new recording to activate the video camera on your device and film your video story
The play/trim feature allows you to trim the tail ends of your video. This function shows up directly after selecting from the camera roll or recording a video.
You can also find the play/trim feature by tapping on the recorded story circle icon.
Next add photos and captions to be displayed during your movie and then select themes and choose a title card you like. This may all be done by tapping the word buttons at the bottom of the screen.
Toggle intro music on or intro music off
play your movie to preview your photos, captions, titles and story all put together. share the movie via YouTube, Vimeo, Dropbox, Email or save a high-resolution version to your camera roll and download to your computer for archiving or play for all to enjoy, right from your iPhone on mirror from your Apple TV. You can always go back and edit a story later, adding images and captions or trimming the captured video and then share it again.

Creating a Collection:
Stories can be captured individually or stored and shared in groups as Collections. You might capture a series of recordings with someone speaking to various prompts from the Interview Tips. Or, let's say you're at your an event and want to collect short stories and memories from the guests who are there. You can keep adding stories to a Collection, share each individually, or have StoryCatcher render all the clips together in one movie.
To add stories to a Collection, tap on a story icon in the home screen window.
You are given five options: 
add story: adds a new story to the collection
play all: if you have more than one complete story in the Collection, this will play all of them sequentially
share all: if there is more than one complete story in a Collection, this will share all the stories stitched into one single movie (BE AWARE: these movies can be quite large!)
delete all: Deletes all stories in the Collection and the Collection itself.
rearrange: tap and hold a story icon to rearrange the stories.
Tapping on an already recorded story in a Collection allows you to:
edit the movie so you may re-record it, add an intro, images and quotes and choose a different template
delete the movie 
play the movie
share the movie
M-F: 6am – 5pm
Sat: 7am – 4pm
Sun: Closed