Why Create A Legacy Video?
Saving Family Stories With a Legacy Video
What if I told you that you could change a child's life by sharing your family stories in a legacy video? Would you move into action? Would it inspire you to begin documenting  your own life, plus stories of the people who came before you?
Sometimes when I talk to people about creating a legacy video, the question comes up; why should I share my family stories, will anyone really care?
As a part of our human make-up, we often don't know or understand the value of something until it's gone. In the instance of family stories, "too late" happens all the time. Often because a storyteller is no longer able to impart the tales they'd been spinning to anyone who would listen over the years. They pass away or become ill in such a way they're no longer able to communicate. Those precious gems that are their stories, forever lost. 
"The idea that we're 'wired for story' is more than a catch phrase. Neuroeconomist Paul Zak has found that hearing a story…causes our brains to release cortisol and oxytocin. These chemicals trigger the uniquely human abilities to connect, empathize, and make meaning. Story is literally in our DNA." ~Brene Brown

 
So often the people I find myself helping to create a legacy video have experienced some kind of lost opportunity. A beloved storyteller may be gone, but they know they can still capture and share their family stories with the ones still here who are able to communicate. 
Recent happiness research has proved that children who know that family narrative are happier and more resilient than children who don't. We owe it to our future generations to document our family stories. 
"We owe it to our future generations to document our family stories."
So how does one go about this activity of documenting family stories? What's the best medium? When is the best time? 
 I'll tell you. 
 Right now. 
The beauty of documenting family stories to be shared now, or one day in the future, is that as our children grow and mature, they develop a listening and a context in which they hear our stories in a way they may not be available for when we ourselves are inspired to tell them!
Create Your Legacy Video Now
When I was seventeen years old, my could have mom told me about her struggles of raising two kids on her own, working a temporary job she was uncertain she'd have from month to month, and how scary that was for her. At seventeen, I had no frame of reference to be able to relate to her story. But hearing that story at 35, after having raised a child myself and having experienced uncertainty in my professional life, it generates an entirely different context for my listening and a new understanding of who my mom was when I was growing up, and how resilient and committed she was to make sure her kids had what they needed to get along in this world. I can know her, love her, and admire her in a brand new light. 
"As our children grow and mature, they develop a listening and a capacity to hear our stories in a way they may not have possessed when we ourselves are inspired to tell them!"
Our children look to us for guidance, learning, hope and security. For the whole of their lives. As they themselves grow into adulthood, they long to know who we really were at their same age. What greater gift than to give them ourselves through stories, to let them know us and have us, when they're ready to know, when they are available to receive and understand all that we are always offering?
My friend Elizabeth, whom I recorded a legacy video with, is further expanding her collection of stories and has embarked on a journey called, "My Life In Paragraphs." You might consider using our video storytelling app StoryCatcher®, and create a collection of short videos telling about your experiences, lessons, values and hopes. You may feel most comfortable expressing yourself in writing or via an audio only format, which can easily be done any time, any where using a smart phone.

Share when you're inspired to. Create a little collection, or even a big one. Do it on your own or consult a professional for help and guidance. Be sure to save your media in two places. Tell at least one person you trust where it is. 
It's the greatest gift you will ever leave behind.

I promise you that.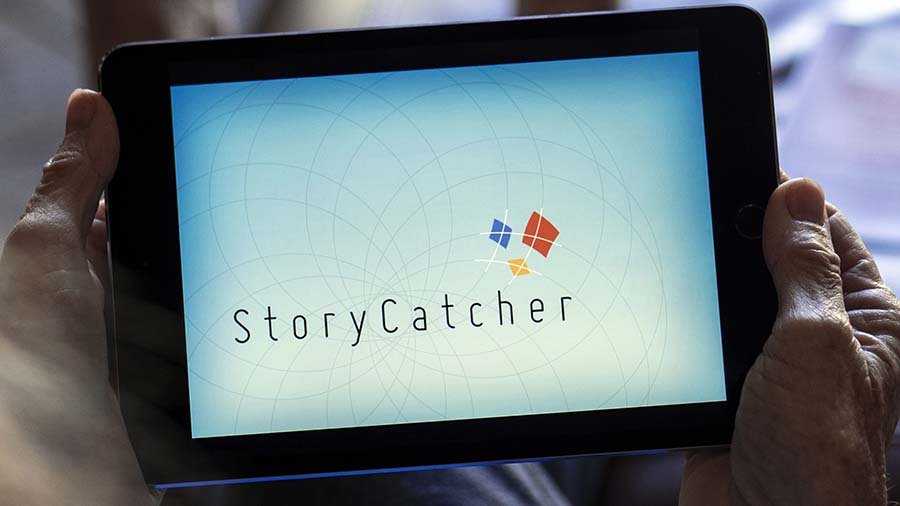 Download StoryCatcher® On The Apple App Store
Easily create and share personal video stories. Your privacy is number one with us. Once you download the app, you have 100% control over your media and data!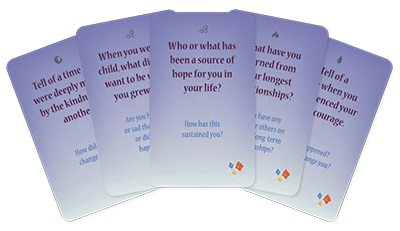 Provocative Story Prompts
StoryCatcher® comes with great story prompts already loaded inside the app. Simply tap on "Interview Tips." If you're wanting to go deeper, our "My Life in Paragarphs" card deck is the perfect compliment.  Get your cards now.
Join April Bell in engaging retreat experiences to discover your legacy stories, one paragraph at a time. Learn More about My Life in Paragraphs.